Newsletter Signup
Catalog Request
Contact Us
Book Your Trip
Newsletter Signup
Keep up to date with Tofino's amazing adventures.
Download the Digital Catalog
Download our digital catalog of sea kayaking trips for the 2016/17 season or request a print catalog using the form below.
» Download Digital Catalog (PDF 3.3 MB)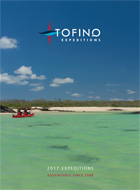 Request Print Catalog
Have a Question?
Phone : 800-677-0877 or (541) 389-6091
Email : info@tofino.com

Contact Us Form
Ready to register for an adventure? Excellent!
To make a reservation online, fill out the form below or call us at 1-800-677-0877 or 1-503-364-0400 (International) or email info@tofino.com.
Please review our Terms & Conditions.