Kayak Tours Into the Heart of Gwaii Haanas National Park
Our Haida Gwaii kayaking tours paddle
Gwaii Haanas National Park
a unique environment and a place with a rich cultural heritage. Sea kayaking routes on the west coast of Canada are exceptional and experienced kayakers regard
Haida Gwaii
, formerly the
Queen Charlotte Islands
, as the best of the best. Located 80 miles off Canada's extreme northwest coast (you can see the mountains of SE Alaska from the Islands' north coast) the islands of Haida Gwaii (Haida Place) are home to the
Haida
, a people with a formidable sea-going lineage and a remarkable artistic tradition. The
Outside Magazine 2013 Travel Awards
rated Haida Gwaii as "Best Islands."
The Islands are referred to as "
Canada's Galapagos
" because of their unique ecology, and Gwaii Haanas (Place of Wonder) National Park was founded to protect the natural and cultural integrity of the remote southern portion of the archipelago.
National Geographic
rated Gwaii Haanas National Park as the top park destination in North America — "Beautiful and intact. A great model for other regions."
Our trips are defined by more than 25 years of experience guiding in
Haida Gwaii
. They are timed for the best weather of the year, and we visit the best attractions of the Park. Your guides take you on a multi-day kayak camping journey through the southern portion of Gwaii Haanas, a place where
sea lions
lounge on rocky haul-outs; gulls, petrels and tufted puffins perch on cliffs;
humpback
and
orca whales
glide through the channels and straits; and tidal shallows are scattered with brightly colored sea stars. You will stay at beach camps where generations of Haida paddlers have landed their magnificent cedar canoes and where the rainforest floors are covered with a thick carpet of moss.
Feel the silent power of the standing
totem poles
at the
Skung Gwaii (Ninstints) UNESCO World Heritage Site
. Float through the richest inter-tidal life in the world at
Burnaby Narrows
. Experience the incomparable blend of landscape, cultural history and wildlife that make Gwaii Haanas National Park truly a place of wonder.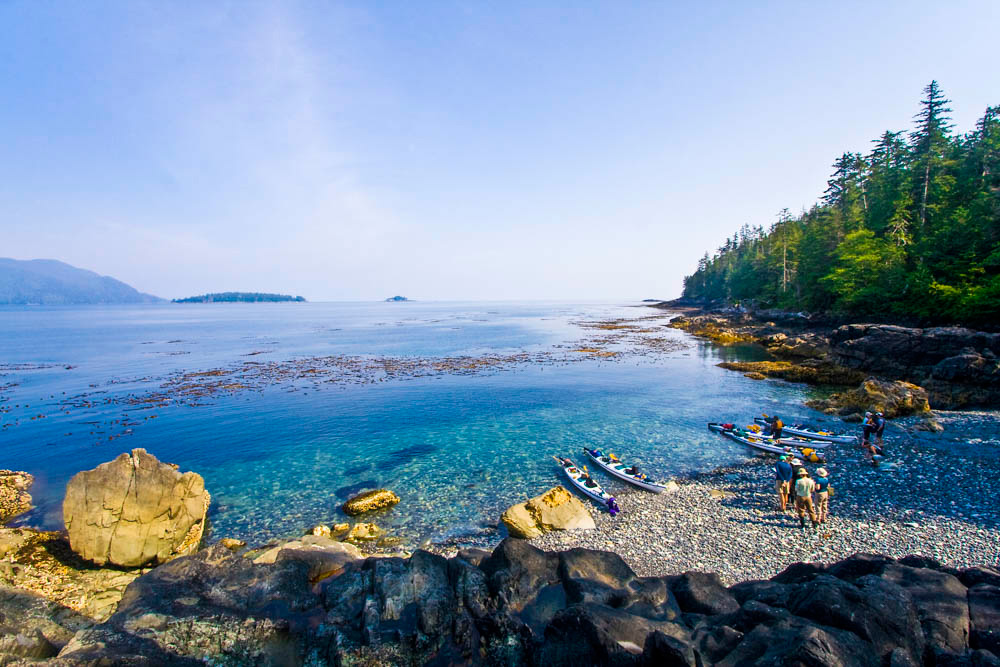 Kayak Tour Highlights
Gwaii Haanas National Park Reserve
– Rated as one of the top Parks in North America
Burnaby Narrows – Highest density of intertidal life in the world
SGang Gwaay Village
(Ninstints)
– Ancient village site with standing totem pole, a UNESCO World Heritage Site
Vist with the Haida Watchmen that protect and interpret valuable cultural sites
Wilderness camping at ancient village sites
Abundant Wildlife – Bald eagles, Humpback, Orca and Minkie whales, pelagic birds including Cormorants and Puffins, the largest
Black Bears
in the world