A Kayak Tour of the Ecuadorian Amazon Rainforest

On our
Amazon
kayaking trip is your chance to glide soundlessly down a rainforest river in a kayak with only the sound of bird calls and rustling of troops of monkeys in the treetops overhead to break the silence. We've put together a kayaking adventure that no one else offers that gives travelers the chance to paddle the river systems of the
Ecuadorian Amazon
around the
Yasuni National Park
in
Feathercraft® tropical expedition sea kayaks
.
Kayaks offer unrivaled access to the small tributaries and the mysteries of
the flooded forest
in the famed
Amazon
, and their silent progress makes for outstanding wildlife viewing and encounters that are missed by passengers who travel in motorized craft. Each day you'll explore a new and fascinating aspect of this supremely unique ecosystem that has the
highest concentration of flora and fauna species
in the world. You'll paddle through sections of forest that are actually floating, slip across mirror calm lakes to look for pink
Amazon river dolphins
, and scan the jungle for flocks of brilliant
macaws
and over 12 species of primates. You'll be led by a team of naturalist and aboriginal guides that can identify the plants and creatures you'll encounter and describe in detail the fascinating relationships that make up the ongoing drama of life in the
Amazon rainforest
.
At the end of each days' adventure you'll return by motorized dugout canoe to the comforts of one of the three deluxe jungle lodges that make up the accommodations on this trip. There will be time to have a hot shower, get a cold drink, and discuss the day's highlights before sitting down to a dinner that blends local ingredients into international cuisine. Along with kayaking, we'll have an opportunity to explore the entire forest, from the floor to the
jungle canopy
, all with expert interpretation. Guests will also enjoy world-class
birding
that is guaranteed to bolster the life list of even most the avid birder.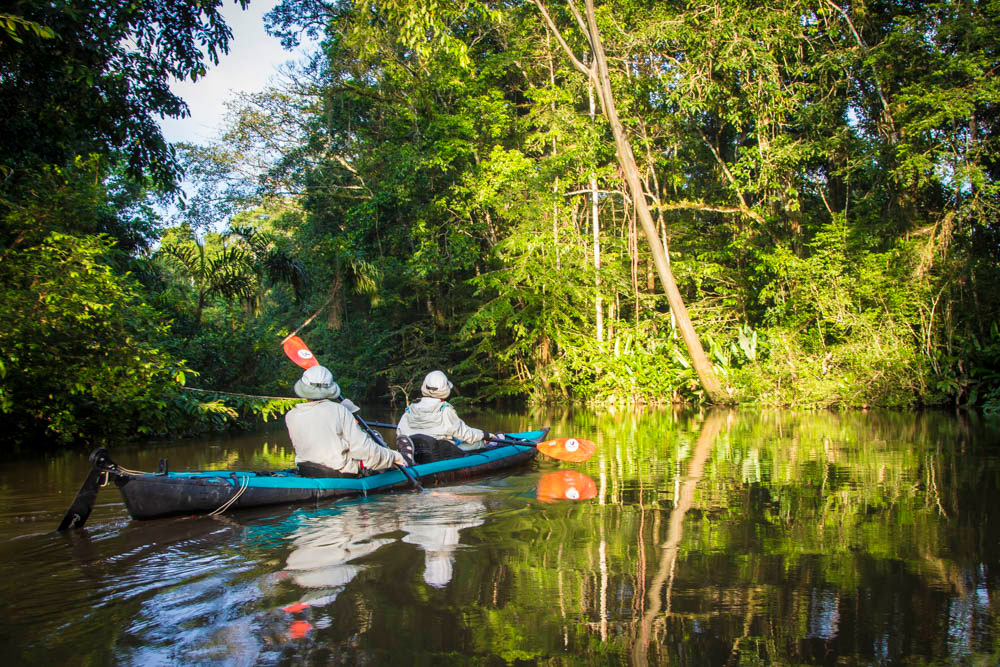 Kayaking the Amazon
A visit to the Amazon rainforest is a life-changing experience and small group size is the key to the success of any wildlife adventure. Just 10 guests will be fortunate enough to participate in this very special kayak exploration of the sea of green that is the Amazon.